Chapter 3 starts February 21st!
Season 2 – Chapter 3
In Chapter 3 we're introduced to the Waste. The areas outside of Atlas are no longer under the influence of life-sustaining Reactors. Living out there is harsh, and people from these areas have become accustomed to these hardships. We'll be joined by a new Freelancer – a child of the Waste – once mentored by Titus. And now that Khita's here, everyone's got a target on their back.
Khita, The Shooting Star

Khita is a nimble archer with specialized arrows that can heal and shield allies. On offense, her Warped Arrow allows her to curve her shots around obstacles, ensuring you always have a shot. As a support you'll have to balance keeping your team alive with staying alive yourself. Find your ideal loadout for every situation!
Apocalypse Skins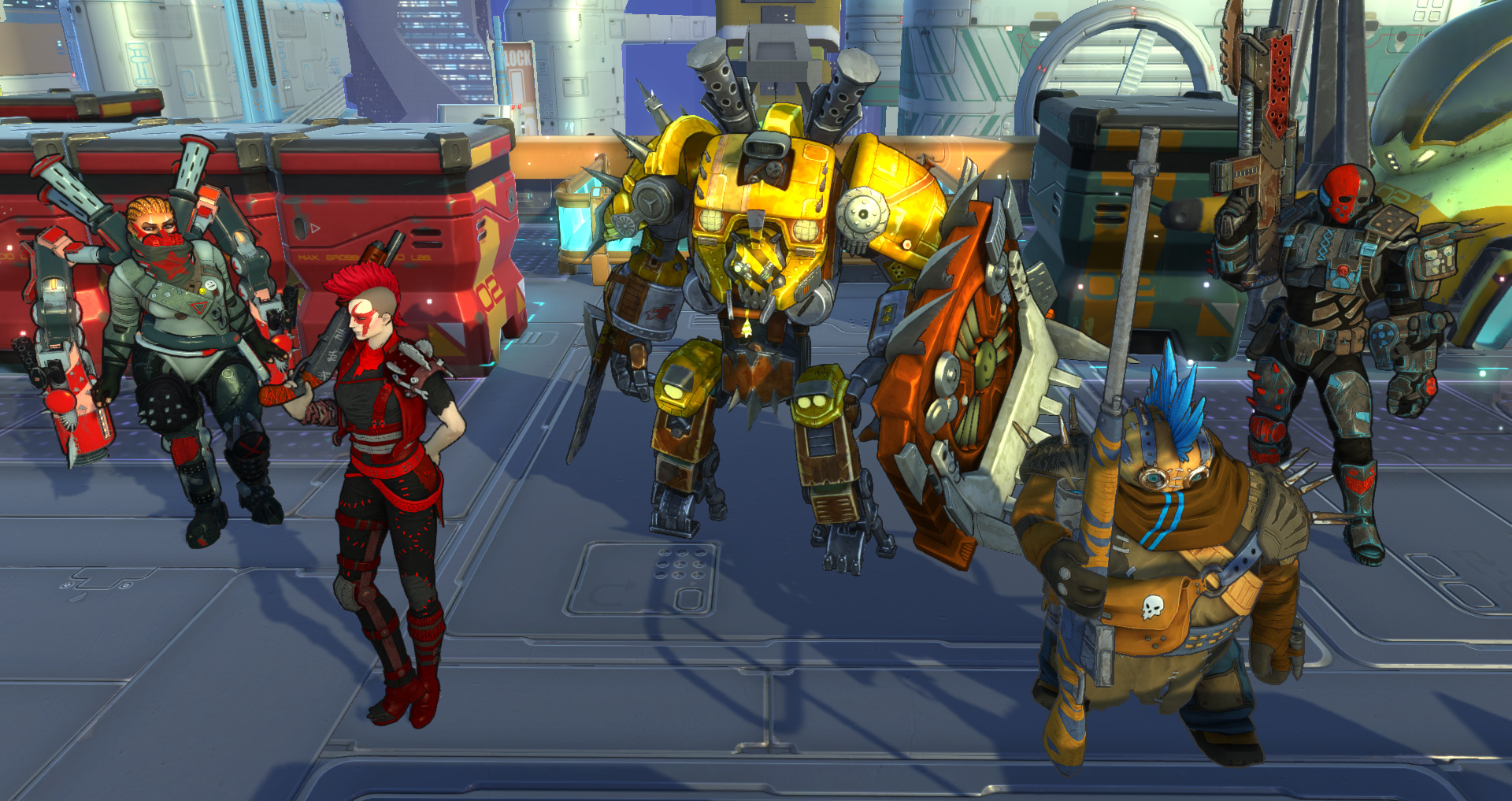 Dress for the apocalypse with new skins for Blackburn, Elle, Juno, Nix, and Rampart. Completing the Chapter Challenge for the first time will net you an Apocalypse Loot Matrix that contains one of the 11 new skins or bonus items! The Apocalypse Loot Matrices are non-dupe, so you'll never get the same item twice! After the chapter, all of these items will be available to unlock via ISO, and will even be put into the general Loot Matrix that you earn just by playing!
Helio Corps Skins
Helio Corps is celebrating their newfound Trust status with HC skins for every Freelancer! During chapter 3 and 4 your daily missions will be replaced with HC daily missions that will net you HC skins.

Helio is picky about the material and patterns, so HC skins will be released in waves.
New Game Mode: Overpowered-Up

Get Overpowered-Up in a new game mode where energy gains are off the charts and all damage and healing is increased by 50%. Power-ups pads will generate power-ups more frequently and have a chance to spawn any power-up. In OPU you'll be aiming for 8 takedowns instead of the normal 5 in Team Deathmatch.
GG Boost Rework

We've always wanted more out of the GG Boosts. They are a great way to reward everyone in a match for solid plays and respectful banter. These changes are meant to provide a few more of those friendly nods to create a positive experience.
GG Boosts still provide the same bonus: +30% for you, +10% for everyone else.
You can now activate up to 3 GG Boosts each match!
The price has been lowered substantially.
Be friendly. Be positive. Be generous!
– The Atlas Reactor Team
If you're not already playing Atlas Reactor…
Play Now!
If you're already signed up, you can download Atlas Reactor here.
For all the latest Atlas Reactor news make sure to follow us on Twitter, Facebook, and come discuss the state of the game in our Forums. Don't forget to tell your friends and get awesome RAF Rewards!