Get in and experience it all!
This weekend we've supercharged the reactor and every player has full access to everything Atlas Reactor has to offer! From November 11th-13th all matches played during our Bonus XP Weekend will net you 25% more base experience!
Plus, Free Mode players get to try out all the freelancers, including our newest melee firepower, Kaigin, The Warpstalker. You can even jump into *Ranked games! (*You'll need at least 50 matches to access Ranked)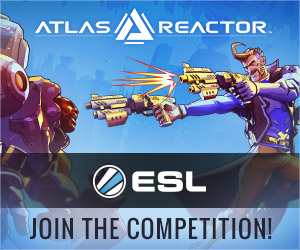 If you are really excited about competition in Atlas Reactor, you should definitely grab a team and sign up for the ESL Go4Cup Tournament on November 12th. More ESL Go4Cup competitions will be taking place every weekend with shoutcasting and cash prizes!
– The Atlas Reactor Team
If you're not already playing Atlas Reactor…
Play Now!
If you're already signed up, you can download Atlas Reactor here.
For all the latest Atlas Reactor news make sure to follow us on Twitter, Facebook, and come discuss the state of the game in our Forums. Don't forget to tell your friends and get awesome RAF Rewards!