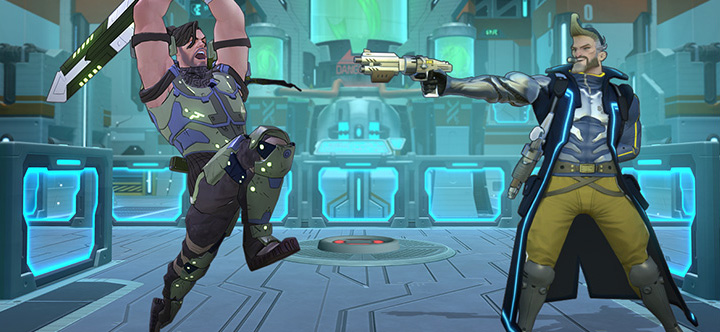 It's a very exciting time here at Trion for the Atlas Reactor team.

I've had a blast playing with you all every night in Closed Beta, and your feedback has been super important. The positivity we've been getting from both you and the press is incredibly encouraging. You seem to think the game is as unique, fun, and competitive as we do, which really motivates us to work even harder for you.
Your reactions have been extremely positive towards Atlas Reactor's cosmetic and boost-based microtransaction system. We don't monetize power, and everything that impacts gameplay (such as Freelancers and their Modifications) can be earned via gameplay. We are proud of this system: you get a ton of play options, and it's fair.
During Closed Beta, we've been figuring out how to best tune our Free to Play ("F2P") game to create a sustainable business. To make it viable, we would have had to do some things that run counter to your feedback, making the game less fun.
Instead, we've decided to change the way we offer Atlas Reactor to you, shifting from a Free to Play game to a premium digital game (aka "buy-to-play"). In other words, in order to play the game, you will need to purchase it. Purchasing the game will give you access to all current and future Freelancers.
To everyone who has already supported us by buying a Founder's pack or purchasing in-game credits, thank you so much for your support. We want to make sure you're taken care of in this transition. As a result, if you have already bought $10 or more of in-game credits, or bought any of the current Founder's packs, you now own the game! Additionally, if you purchased the Starter Pack, Freelancer Pack, or Trust Pack, you will be receiving a ton of additional rewards.
Today we are announcing 3 new ways to access Atlas Reactor. You can view the new pricing structure [here], as well as the premium gifts we are awarding to pre-sale purchasers. These will be available in a few weeks.
$29.99 for full access to Atlas Reactor allows us as developers to focus on the things we believe you care about the most: The competitive, balanced fun rather than store mechanics.
We're going to be discounting the Atlas Pack to $19.99 for a short period of time. We will also be giving many opportunities to try the game before buying. Free weekends (including the weekend of May 13th – 15th), trials, friend referrals, and the Open Beta are all on the horizon.
This change might worry some of you. It certainly worried the dev team at first. However, in the end, this change frees us to design the game with fun as our first priority:
· Now, all current and future Freelancers will be available to you!
· The Seasons system will be revised with a greater focus on rewards achievable through gameplay. We are excited to show you the beginning of these changes soon.
· Some cosmetic features (like taunts, styles, vfx swaps, etc) needed to be cost effective to create. We can now reduce the price of these items, as well as make many of them obtainable through gameplay.
These are just some of the high level improvements we can now introduce. You can expect to see these changes in the coming weeks.
Thank you again to those of you who have jumped into Atlas Reactor already. We know you must have questions, and we'll do our best to answer them on the forums, the livestream, and in-game.
– Peter Ju, Executive Producer, Atlas Reactor
For all the latest Atlas Reactor news make sure to follow us on Twitter, Facebook, and come discuss the state of the game in our Forums.